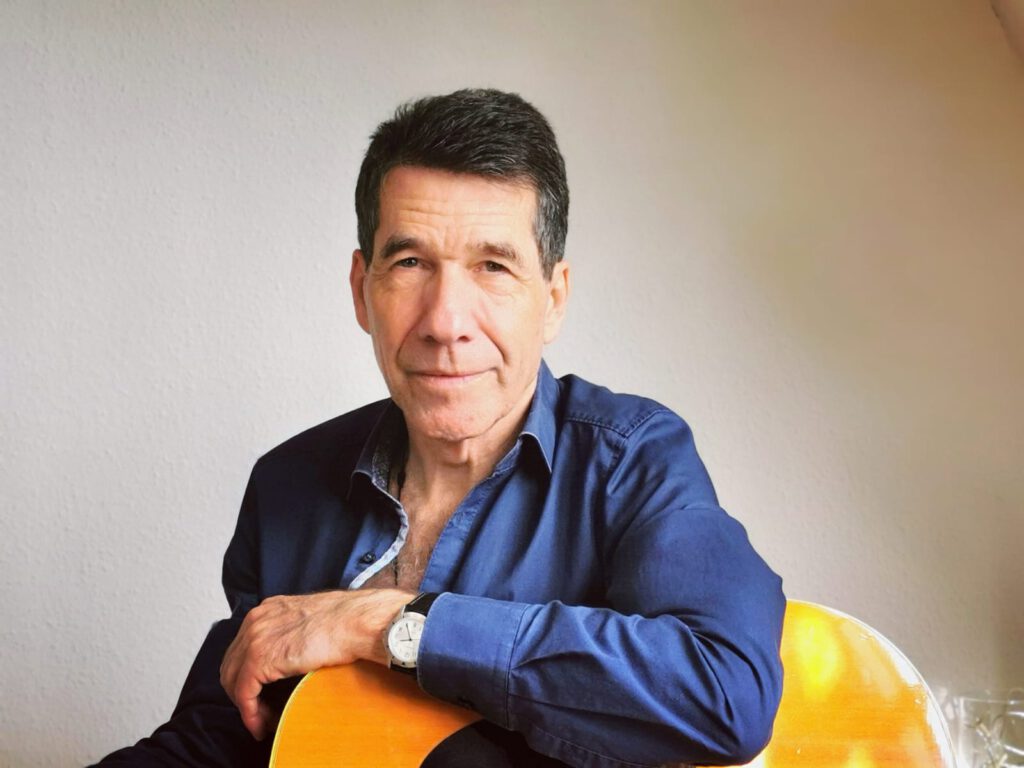 Bert Fenber does not fulfill the usual expectations and clichés of a singer-songwriter. He is not one of the many young musicians who come and often leave. With a PhD in American Studies, studies at the University of Münster and 20 years as a journalist for major German media, he is rather an exception.
He was born in the decade of the baby boomers in Darmstadt and has already led a life. Because of his father's job, Bert Fenber, aka Bernd Rasche as his real name, had to move from town to town quite often when he was younger. He spent a year at an American high school in a small town in southern Michigan. It was during this time that the seed of music and song writing was finally planted in his life. His guitar was part of the journey and he joined a local African American rock band in which he was the only white musician. Before his year in America was over, he received an award from a performance at a German religious song festival. He was offered to be one of the performers on a record.
Several trips and a research stay to and in America in the 80s and late 90s - New York, Pennsylvania, California and Florida - made him breathe in American pop and rock culture again. Attending live concerts by Joe Jackson in Philadelphia and by Paul Simon in South Bend inspired him greatly. Listening to a hit radio station on California State Route 1 from San Francisco to Los Angeles reaffirmed his passion for pop rock. During his year-long relationship with a French woman, he lived in Paris and in Germany. It was this experience that led him to absorb the Parisian flair and learn the French language.
The sound of his songs has a Euro-American touch. Bert Fenber's music shows clear structures and is based on classical instruments like guitar, bass, drums and keyboards. His strong voice is an essential part of the melody lines. The lyrics of his songs are about love, society and hope.
Erst spät, während seines normalen Berufslebens, ging er in das Studio eines Freundes in der deutschen Universitätsstadt Münster und begann, seine Songs professionell aufzunehmen. Das gute Feedback seines Netzwerks in aller Welt bestätigte ihn. "High Time", einer seiner kritischen Songs, ist ein Protestsong gegen die Situation in der Welt – Armut, Klimawandel und Politik. "Coffeebar", "Rebel of Love" und "Sounds of Berlin" – letzterer zum 30-jährigen Jubiläum des Mauerfalls – gehören u.a. mit zu den Songs. Für jeden Song sammelt er einige Musiker, um an seiner Musik zu arbeiten und sie aufzunehmen. Jeder, der Pop Rock mag, der auf starken Emotionen und Lebenserfahrung basiert, wird sich mit seinem Sound zu Hause fühlen. Bert Fenbers Songs funktionieren für jede Generation und haben eine eingängige Melodie. Bert Fenber wird von den Agenturen Newcomer Music Management and Toptalentpromotion (England) vertreten. Seine Songs sind in den gängigen Streamingportalen und in You Tube zu hören. "Bright Eyes" ist sein neuester Song "No Return" wiederum ein Protestsong gegen den Klimawandel. Bert Fenber schreibt Songs mit all seinen Emotionen.
Facebook: Bert Fenber Music | Facebook
Instagram: BERT FENBER (@bertfenber) • Instagram-Fotos und -Videos